Oi! Crew!
I had the possibility to write someting about my favorite places in Berlin for
Unlike.net
Unlike is a great and good looking city guide in the wwweb.
Check it if you have a minute left. You will love it!
Klick HERE to read it.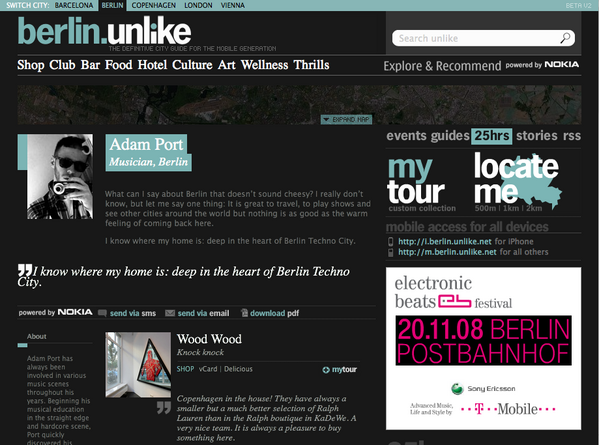 Unlike.net
Adam Port has always been involved in various music scenes throughout his years. Beginning his musical education in the straight edge and hardcore scene, Port quickly discovered his romantic love of vinyl. But as he began collecting, his interests strayed from hardcore and led him to the hip hop bins. But after getting his dual turntables and mixer he realized that there was something more than hip hop: house, techno and electro. But with his love of hip hop ever present, Port began making his own electro sound with soul and rap beats incorporated.

Port is currently working on a new mixtape with DJ Baggs (Kindisch) while maintaining a steady studio practice in search of a new single. He stays busy as a part of the DJ-collective Keinemusik Crew and spends his downtime working on his blog.